Let's Talk About Social Media
Social Media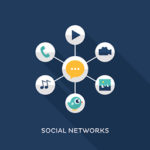 Social media is a fabulous way to grow your influence, establish your leadership position and enhance you customer connections. Get started with social media or enhance your social image. This is one of the fastest growing areas of activity, but it can be difficult to make it work for you without burning your valuable time. Let Pinnacle-Webworx help you.
Social media strategy development
Facebook, Twitter and Linkedin page development
Content strategy and creation
Social media linking
Social media management
* These fields are required.