Email Marketing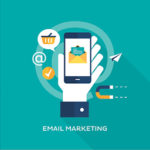 Email marketing or email blasts are a great way to keep your organization in front of your clients. Email works to develop prospects into customers or to nurture non-donors into donors, whether you are a non-profit or for profit organization emails work.
We can help you develop an email program, enhance an existing program, grow your email list, and increase your open rates. We can help you design emails that get opened and read.
Email program development
Email template design
Email list development and management
Content creation
Personalization
* These fields are required.